LA Tenorio's last game with the Blue Eagles was phenomenal. However, his efforts were still insufficient to defeat the De La Salle University's Fantastic play in their Final Four match Last Sunday. He was on a high up to the end of the First half and garnered an early 15 points to top all players as of halftime. Ateneo held their last lead by then. What happened in the next quarter, to me, is still unfathomable. Unexplainable. Not to mention, disheartening. Ateneo, turned the ball over more than 9 times, giving La Salle around 16 turnover points. This game them a double digit lead by the end of the Third Quarter. And the rest was history. Ateneo lost to De La Salle, 57-74, for the third time this season 68. Last year was also an Ateneo-La Salle final four year where Ateneo lost their chance for a finals berth.
LA Tenorio gave his all last Sunday. He is worthy of praise for giving the Ateneo high spirits that day. However, basketball is a team sport. Without the efforts of other team members, they wouldn't really muster the win they deserve. From the way I saw the game, he was all alone in there.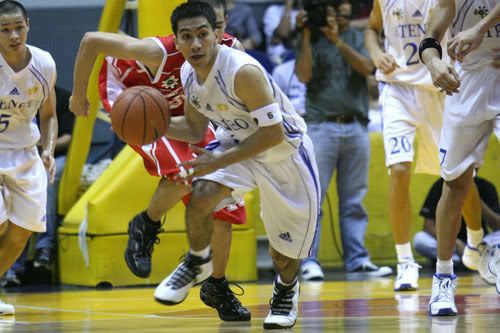 I can't seem to fathom what the heck is wrong with the Ateneo players everytime they play LA Salle. I can't seem to explain why the Eagles were able to defeat the top team, the Far Eastern University Tamaraws who swept the Archers in the elimination round, but always fall short of expectation when playing with their long-time arch-rivals.
Blame it on pressure, I guess. It is really difficult to play in a crowd of 14,000, where mixed emotions unravel every minute. I think what the Ateneo Blue Eagles lack is the mental toughness to withstand these on-and-off-court pressure. It takes maturity, patience and temperance. And most of all, focus. I personally think that the Eagles are a team of highly-talented individuals. What they need is not a practice of agility, endurance and strength, but a practice of endurance of heart and spirit. In that game against La Salle, the Eagles did not win against La Salle. They lost against themselves.
Too bad LA Tenorio did not finish his UAAP career with a championship ring. But he's got a lot of talent and heart to make it to the bigger leagues. Probably by this time, a lot of PBA teams are already wooing him to join their clubs.
I would also like to give credit to the graduating Eagles this season for their respective contributions to season 68, for making the Blue Eagles one of the toughest teams this year. On the general perspective, the Ateneo Blue Eagles fell way above expectation. They were initially expected to be out of the final four after losing two games early in the first half of the elimination round. However, they managed to win seven-straight games as the league went on.
Coach Norman Black was terrific. Enough said.
Personally, I was frustrated and saddened by the Ateneo's eleimination from the final four. But I know that there will always be a next time... Until then, Halikinu!!!
Season 69, here we come!!!