Ateneo Basketball League 2005 Season has started last Saturday, and we played our first game last Sunday at the Adidas Sports Kamp. We lost by four points. Only four points. It was one of the most heart-breaking losses I've ever experienced as a pseudo-baller.
This is how it happened. At overtime, our opponent Team Lavilles led by as much as five points during the last two minutes. Luckily, we managed to cut the lead down to only one point in the final thirty seconds. We then tried the man-to-man defense against them, but unfortunately, one of them became open for the basket and hit a three-point basket with only 8 seconds remaining in the ball game. We failed to answer that shot, thus the loss. Final score was 43-39.
Though it was a sorry loss for Team 4F 98, I have seen a lot of improvements from our first game last year. As we have studied the past game, we have noticed that our team has improved from a so-so team into a contender for the final four. Here are some points:
a. We managed to bring the game in a close match, with the opponent leading only up to as much as 9 points.
b. We lost by only four points. Last year, we lose games with the opponent leading by at least 15 points. This shows that we are developing intensity even to the last minute.
c. Half of the players enlisted in our team played. We had a pretty good nine-man rotation, composed of the captain Mitch Martinez, swingman Jayvee Reyes, Defense Minister Jude Santos, Twin towers Carlo Gonzalez and Bong Perez, newbie Pua (I failed to get his first name though my shorts are still with him), Clutch man RJ Militar, "big man" Ep-ep Mateo and myself.
d. I scored nine points and only fouled once. In the first game last year, I scored only a couple of points and fouled out in the third quarter.
Though we suffered a heart-breaking loss last Sunday, we realized that our team has a lot of potential, and the possibility for a final four slot is closer than expected. But of course, win or lose, we still have fun and enjoy the 17,000 buck-entrance fee.
Booyah…
Snapshots: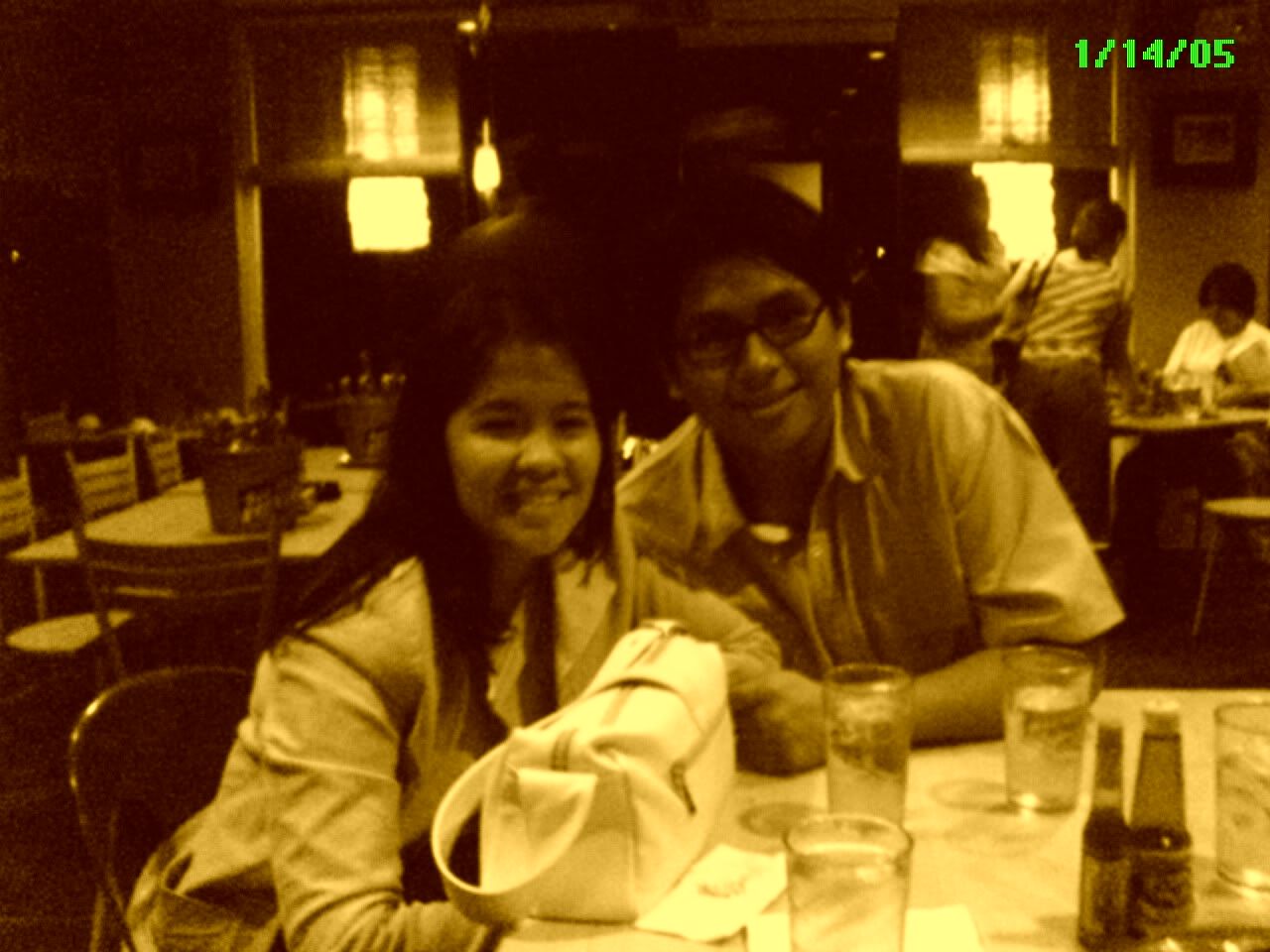 My lady and I
Taken during one dinner cum inuman at Pier One Tomas Morato
-------------------------------------------------------------------------
Trivia trivia
Did you know: Comedy King Dolphy started out as a dance instructor in his early years before entering the movie industry.