,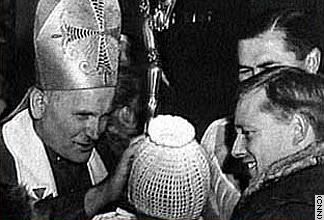 Let me offer this entry to our beloved Pope John Paul II (Karol Wojtyla), who passed away at around 3:47 a.m. Sunday, 3 April 2005 (Philippine Time).
A certified record holder for being the most traveled, not to mention the most approachable, loved and omnipresent Pope, truly he has touched the lives of billions of people, even Non-Christians.
Truly he will remain in the hearts and minds of Christians wherever they may be.
John Paul II, thanks for the wisdom, strength and love you've shown us in your 26 years of Papacy.
Now, you are with God...