In their early years, this duo was obviously the best tandem the NBA has ever created. Their jelling was so perfect, they managed to provide the Chicago Bulls six NBA Championships. Of course they wouldn't have done it without the support of their equally-competitive teammates. But this two, they were the most phenomenal of them all. What I am referring to is no other than His Airness, Michael Jordan and his partner, Scottie Pippen.
They were the epitome of a basketbal dynamic duo. Admittedly, Michael Jordan was the best player in basketball history, but he couldn't have done it without the support of this silent assassin, Scottie Pippen. It was true when Scottie, in his retirement speech, mentioned that Michael Jordan couldn't have been the best player if not for the best "role player."
I just wanted to post this photo I got from Sports Illustrated showing these two fine players, however, going against each other in a game at Washington. Fans and basketball enthusiasts might get disoriented by this photo... Well, at least from this photo we are reminded that nothing in this world is permanent. hehehe...
Now that these fine ballers are retired, all we can do is look back on how these two changed the game of basketball from mere fundamentals to funfare and excitement. For me, not a single tandem succeeded these two. None yet, at least.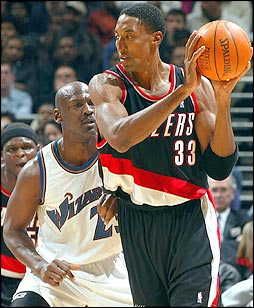 For me, the best team ever assembled next to the Dream Team is the Chicago Bulls 1996-1998...
------------------------------------------------------
I would like to thank My Lady for sharing the most wonderful
one and a half years
of my existence. Here's to many more...
Happy 18th
...