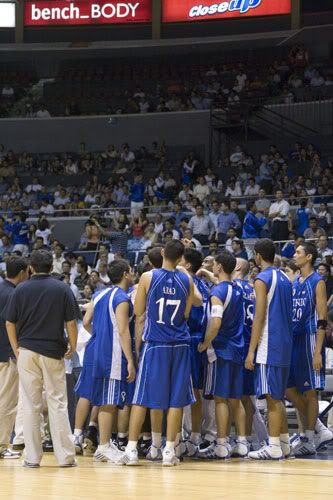 The blue Eagles finished the first round with a 5-2 win-loss record after starting off with two losses in the first three games. I think they've found their chemistry and rhythm, as seen in the most recent game against the Adamson soaring Falcons.
They started that game with a commanding 12-0 lead early in the first quarter, and finished off with a 91-75 victory. All players were used during that game, including the 6'7 lanky rookie Radeh Al-Hussaini. Everyone contributed to the team's success that day.
On thing I think they should look into is their third and fourth option. In the Adamson-Ateneo game last Sunday, the blue Eagles were scoreless for about three minutes because their three best scorers, JC Intal, LA Tenorio, and Doug Kramer were all in the bench. I think they should look for a go-to-guy whom they can depend on in dire times. Magnum Membrere or Mack Escalona are good candidates for the position. Jai Reyes, though still a rookie, also has the potential. Whoever he is, I think Coach Norman should give him enough confidence and playing time.
I hope everything turns out well for the Blue Eagles in the second round. They still have to beat the Tamaraws and the Archers in their rematch in the second to stress their final four certainty.
Until then, Fabilioh!!!
Trivia, trivia
Did you know: Rookie Blue Eagle Radeh Al-Hussaini is a half-brother of former Green Archer and now Shell Turbo-Charger forward Carlo Sharma. Now that the Turbo Chargers are in Leave of Absence, I don't know what is Carlo's next career move.