Last Saturday (Philippine time), the world had just witnessed one of the dirtiest (and for me, the most exciting) NBA games in history. Visiting Indiana Pacers took a good beating from some players and fans of their rival Detroit Pistons.
It started when Ron Artest (the player who wanted some time off from basketball to concentrate on promoting his rap album) committed a hard foul over Detroit's monster center Ben Wallace. Ben Wallace was infuriated by the action, thus, shoving away Ron Artest to the sidelines, creating a fracas in the court.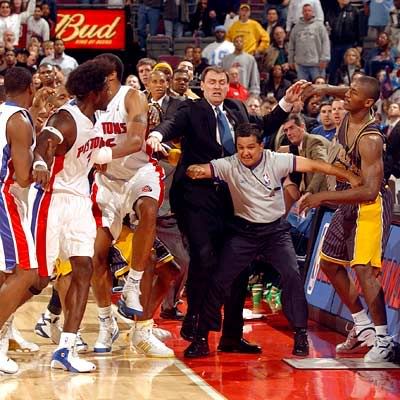 Thanks to the "heroic stunts" of Stephen Jackson who came running towards Wallace to defend his teammate (considering that he was a newby of the team due to a trade that sent Al Harrington to the Atlanta Hawks), the fracas grew into a bigger mayhem.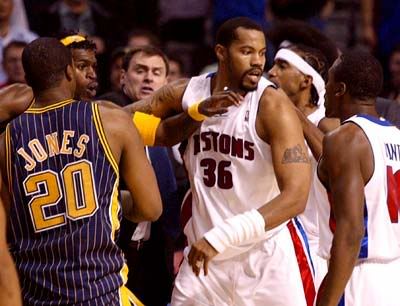 Ron Artest who laid down in the scorer's table in a taunting gesture, was taken by surprise when a fan splashed him with a pint and some popcorn. The angry ol' Artest chased that fan in the audience and threw some punches that resulted in a melee that ended roughly. As expected, superhero Stephen Jackson, again, went to the rescue, with his Pacer pal Jermaine O'neal. The game ended with a 97-82 win of the Pacers, after the referees called for its cancellation, with only 45 seconds remaining in the 4th period.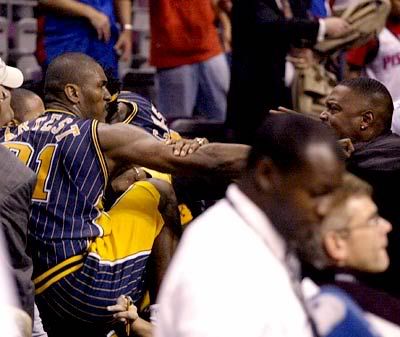 It is quite humiliating for the world's greatest basketball players that they can not keep their sportsmanship and professionalism in a basketball game. We Filipinos look up to these players with great admiration for their talent, discipline and intensity in the hardcourt. But in this case, we were disappointed. No wonder they weren't able to get the gold in the most recent olympics. NBA guys should be reminded that in order to excel in their selected field, they ought to be professional and disciplined.
However, for the sake of entertainment, I really enjoyed that "Basketbrawl" game... It was like the modern-day Crispa-Toyota games that my father used to tell me... Now, I have my own stories to tell my children.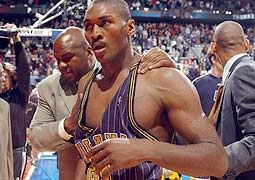 Ron Artest: took an early shower in the scorer's table...
--------------------------------------------------------------------
Trivia trivia: Alejo Santos was the rival of Ferdinand Marcos for the Presidency in 1981, the year when Marcos lifted Martial Law.