I was browsing through the paper this morning and saw that today is a very special day for Australians because they are celebrating their national day. It made me more interested to browse through the events that occured today over the past centuries. Thanks to
Wikipedia
, I was provided a list of all the events that took place today:
Historical Events

1340 - King Edward III of England is declared King of France.
1500 - Vicente Yáñez Pinzón becomes the first European to discover Brazil.
1531 - Lisbon, Portugal hit by an earthquake--thousands die.
1564 - The Council of Trent issued its conclusions in the Tridentinum, establishing a distinction between Roman Catholicism and Protestantism.
1565 - Battle of Talikota, fought between the Vijayanagara Empire and the Islamic sultanates of the Deccan, leads to the subjugation, and eventual destruction of the last Hindu kingdom in India, and the consolidation of Islamic rule over much of the Indian subcontinent.
1589 - Job is elected as Patriarch of Moscow and All Russia.
1699 - Treaty of Carlowitz signed.
1700 - The magnitude 9 Cascadia Earthquake took place off the west coast of the North America, as evidenced by Japanese records.
1736 - Stanislaus I of Poland abdicates his throne.
1785 - Benjamin Franklin writes a letter to his daughter expressing disappointment over the selection of the eagle as the symbol of the United States; he wanted the turkey.
1788 - The British First Fleet, led by Arthur Phillip, sails into Sydney Harbour to establish Sydney, the first permanent European settlement on the continent. Celebrated as Australia Day. 1802 - The U.S. Congress passes an act calling for a library to be established within the U.S. Capitol; eventually this becomes the Library of Congress.
1808 - Rum Rebellion, the only successful (albeit short-lived) armed takeover of the government in Australia.
1837 - Michigan is admitted as the 26th U.S. state.
1838 - Tennessee enacts the first prohibition law in the United States
1841 - The United Kingdom formally occupies Hong Kong, which China had ceded.
1861 - American Civil War: The state of Louisiana secedes from the Union.
1863 - American Civil War: General Ambrose Burnside is relieved of command of the Army of the Potomac after the disastrous Fredericksburg campaign. He is replaced by Joseph Hooker.
1863 - American Civil War: Massachusetts Governor receives permission from Secretary of War to raise a militia organization for men of African descent.
1870 - American Civil War: Virginia rejoins the Union.
1885 - Troops loyal to the Mahdi conquer Khartoum.
1887 - Battle of Dogali: Abyssinian troops defeat Italians.
1905 - The Cullinan Diamond is found near Pretoria, South Africa at the Premier Mine.
1907 - The Short Magazine Lee-Enfield Mk III is officially introduced into British Military Service, and remains the oldest military rifle still in official use.
1911 - Glenn H. Curtiss flies the first successful seaplane.
1911 - Richard Strauss' opera Der Rosenkavalier receives its debut performance at the Dresden State Opera.
1920 - Former Ford Motor Co. executive Henry Leland launches The Lincoln Motor Co., which he'd later sell to his former employer.
1930 - The Indian National Congress declares 26 January as Independence Day or as the day for Poorna Swaraj (Complete Independence)
1934 - The Apollo Theater opens in Harlem, New York City.
1939 - Spanish Civil War: Troops loyal to fascist General Francisco Franco and aided by Italy take Barcelona.
1942 - World War II: The first American forces arrive in Europe landing in Northern Ireland.
1946 - Félix Gouin becomes Prime Minister of France.
1950 - India promulgates its constitution forming a republic and Rajendra Prasad is sworn in as its first president.
1961 - John F. Kennedy appoints Janet G. Travell to be his physician. This is the first time a woman holds this appointment.
1962 - Ranger program: Ranger 3 is launched to study the moon. The space probe later missed the moon by 22,000 miles (35,400 km).
1965 - Hindi becomes the official language of India.
1966 - The Beaumont Children go missing from Glenelg Beach near Adelaide, South Australia.
1980 - Israel and Egypt establish diplomatic relations.
1983 - Lotus 1-2-3 is released.
1986 - The Chicago Bears win Super Bowl XX.
1986 - Halley's Comet is visible in the night sky as it passes in its 76-year orbit around the sun.
1988 - The musical The Phantom of the Opera opens for the first time on broadway.
1991 - Mohamed Siad Barre is removed in Somalia, ending centralized government
1992 - Boris Yeltsin announces that Russia is going to stop targeting United States cities with nuclear weapons.
1992 - The Washington Redskins defeat the Buffalo Bills 37-24 in Super Bowl XXVI.
1993 - Václav Havel elected President of the Czech Republic.
1997 - The Green Bay Packers won Super Bowl XXXI
1998 - Lewinsky scandal: On American television, U.S. President Bill Clinton denies having had "sexual relations" with former White House intern Monica Lewinsky.
2001 - A 50-year-old Douglas DC-3 crashes near Ciudad Bolivar, Venezuela killing 24.
2001 - An earthquake hits Gujarat, India, causing more than 20,000 deaths.
2004 - President Hamid Karzai signed the new constitution of Afghanistan.
2005 - Glendale train crash: Two trains derail killing 11 and injuring 200 in Glendale, California, near Los Angeles.
2005 - Having been confirmed earlier in the day by a vote of 85-13 in the United States Senate, Condoleezza Rice is sworn in as U.S. Secretary of State, becoming the first African American woman to hold the post.
2005 - A helicopter crash in eastern Iraq kills 31 United States soldiers.
2006 - A large fire breaks out on Table Mountain in Cape Town, South Africa.
2006 - Western Union discontinues use of its telegram service.
Births

1497 - Emperor Go-Nara of Japan (d. 1557)
1541 - Florent Chrestien, French writer (d. 1596)
1714 - Jean-Baptiste Pigalle, French sculptor (d. 1785)
1716 - George Germain, 1st Viscount Sackville, British soldier and politician (d. 1785)
1722 - Alexander Carlyle, Scottish church leader (d. 1805)
1763 - Charles XIV John of Sweden, Napoleonic general (d. 1844)
1781 - Achim von Arnim, German poet (d. 1831)
1813 - Juan Pablo Duarte, Dominican founding father (d. 1876)
1826 - Julia Dent Grant, First Lady of the United States (d. 1902)
1842 - François Coppée, French poet and novelist (d. 1908)
1852 - Pierre Savorgnan de Brazza (Pietro Paolo Savorgnan di Brazzà), explorer (d. 1905)
1857 - the 12th Dalai Lama (d. 1875)
1868 - Juventino Rosas, Mexican composer (d. 1894)
1880 - Douglas MacArthur, American general and Medal of Honor recipient (d. 1964)
1887 - François Faber, Luxembourgish cyclist (d. 1915)
1891 - Frank Costello, Italian-born gangster (d. 1973)
1891 - Wilder Penfield, American-born Canadian neurosurgeon (d. 1976)
1892 - Zara Cully, American actress (d. 1978)
1900 - Karl Ristenpart, German conductor (d. 1967)
1901 - Stuart Symington, American politician (d. 1988)
1902 - Menno ter Braak, Dutch author and polemicist (d. 1940)
1904 - Ancel Keys, American scientist (d. 2004)
1904 - Seán MacBride, Irish statesman, Nobel Prize Laureate (d. 1988)
1905 - Charles Lane, American actor
1905 - Maria von Trapp, Austrian-born singer (d. 1987)
1908 - Stéphane Grappelli, French jazz violinist (d. 1997)
1908 - Jill Esmond, English actess (d. 1990)
1911 - Polykarp Kusch, German-born physicist, Nobel Prize Laureate (d. 1993)
1913 - James Van Heusen, American songwriter (d. 1990)
1914 - Princess Hadice Hayriye Ayshe Dürrühsehvar (d. 2006)
1915 - William Hopper, American actor (d. 1970)
1918 - Nicolae Ceauşescu, Romanian dictator (d. 1989)
1918 - Philip José Farmer, American writer
1921 - Akio Morita, Japanese businessman (d. 1999)
1921 - Eddie Barclay, French producer (Barclay Records) (d. 2005)
1922 - Michael Bentine, British comedian (d. 1996)
1923 - Anne Jeffreys, American actress
1924 - Rauf Denktash, Cypriot politician
1924 - Annette Strauss, philanthropist and Mayor of Dallas, Texas (d. 1998)
1924 - Alice Babs, Swedish singer
1925 - Joan Leslie, American actress
1925 - Paul Newman, American actor
1925 - Claude Ryan, Quebec newspaper director (Le Devoir) and politician, leader of the Parti libéral du Québec (d. 2004)
1926 - Farman Fatehpuri, Pakistani scholar, writer and linguist
1927 - José Azcona del Hoyo, President of Honduras (d. 2005)
1927 - Bob Nieman, baseball player (d. 1985)
1928 - Roger Vadim, French film director and actor (d. 2000)
1928 - George H. Ross, American attorney and TV reality show star (The Apprentice)
1929 - Jules Feiffer, American cartoonist and writer
1929 - Gordon Solie, American wrestling commentator
1931 - Mary Murphy, American film actress
1932 - Clement Seymour "Sir Coxsone" Dodd, Jamaican record producer
1933 - Ercole Baldini, Italian cyclist
1934 - Roger Landry, Quebec businessman and newspaper publisher (La Presse)
1935 - Bob Uecker, baseball player, broadcaster, and actor
1937 - Joseph Saidu Momoh, Sierra Leone political leader (d. 2003)
1941 - Scott Glenn, American actor
1941 - Henry Jaglom, English director
1943 - César Gutiérrez, Venezuelan Major League Baseball player (d. 2005)
1943 - Jean Knight, American singer
1944 - Angela Davis, American feminist and activist
1945 - Jacqueline du Pré, English cellist (d. 1987)
1946 - Gene Siskel, American film critic (d. 1999)
1947 - Michel Sardou, French singer
1947 - Patrick Dewaere, French actor (d. 1982)
1949 - Jonathan Carroll, American author
1949 - David Strathairn, American actor
1950 - Janet Lupo, American model
1953 - Anders Fogh Rasmussen, Prime Minister of Denmark
1953 - Lucinda Williams, American singer
1955 - Eddie Van Halen, Dutch-born musician
1958 - Anita Baker, American singer
1958 - Ellen DeGeneres, American actress, comedian, and talk show host
1958 - Salvador Sánchez, Mexican boxer
1961 - Wayne Gretzky, Canadian hockey player, coach, and team owner
1962 - Oscar Ruggeri, Argentine footballer
1963 - José Mourinho, Portuguese football manager
1963 - Andrew Ridgeley, English musician
1964 - Paul Johansson, American actor
1965 - Natalia Yurchenko, Soviet gymnast
1968 - Ravi Teja, Tollywood film actor
1970 - Kirk Franklin, American singer
1971 - Dorian Gregory, American actor
1971 - Bryan Callen, American actor
1976 - Frankie Rayder, American model
1976 - Maggie Lawson, Australian musician
1977 - Vince Carter, American basketball player
1977 - Justin Gimelstob, American tennis player
1978 - Corina Morariu, American tennis player
1978 - Kelly Stables, American actress
1979 - Sara Rue, American actress
1986 - Matt Heafy, Japenese-born musician (Trivium)
1986 - Shantelle Taylor, Canadian professional wrestler
1989 - Emily Hughes, American figure skater
1989 - Jin Yu Zhou, Chinese flutist
1989 - Kaitlan W., American student
1993 - Cameron Bright, Canadian actor
1995 - Kyle Chavarria, American actress
Holidays and observances

Australia - Australia Day.
Roman Empire - third day of the Sementivae in honor of Ceres and Terra.
Feast day of the following saints in the Roman Catholic Church:
Timothy and Titus
Saint Paula
Polycarp
Saint Alberic
Saint Margaret of Hungary
India - Republic Day - One of only three state holidays in India, celebrated with pomp and a military parade in New Delhi.
Uganda - Liberation Day.
International Customs Day.
January 26 (Eastern Orthodox liturgics)
For me the most important event that transpired during this day was none of these highlighted events in Wiki. Not many people may remember it, but this may be one of the very few occasions I will always rememberP: The birth of the person who made the greatest impact in my life; the one person who shares my joys, pains, successes and hardships; my bestfriend, my motivator, my guide, my inspiration, my source of strength, my joy. My
Lady
. I thank God for bringing her to this world 25 years ago today.
Wikipedia or the whole world may not take note of this, but for me this is the most noteworthy January 26 event.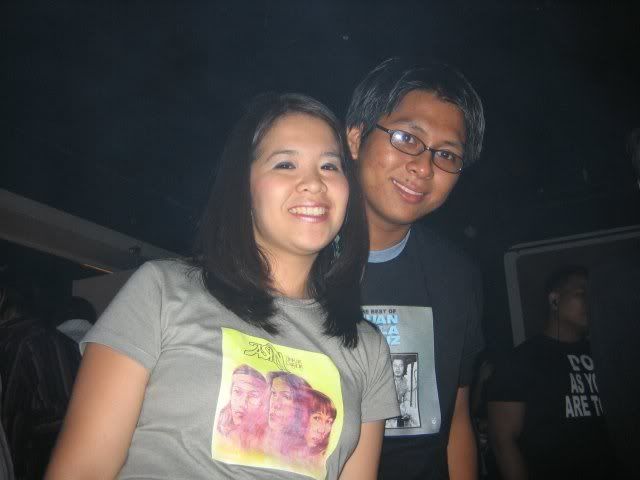 Happy Happy Birthday, Babe! Welcome to Quarter Life... :)
Loving you is just the best feeling in the world...